Our Services
Soft Wash Roof Cleaning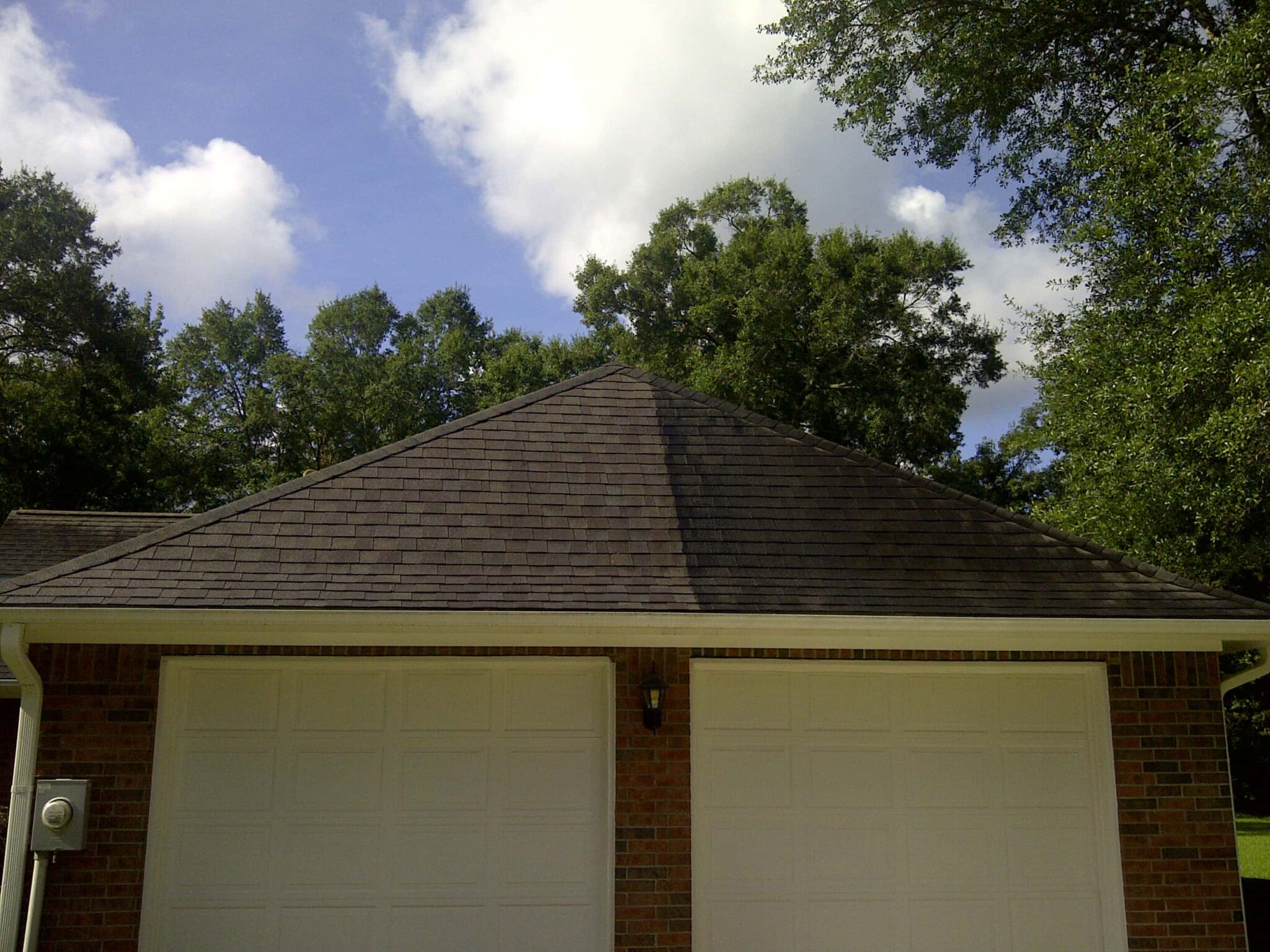 Black streaks & green mold on your roof look awful! This is actually an Algae growth called Gloeocapsa Magma. It eats the limestone filler in your roof shingles, absorbs moisture, prevents the shingles from drying, and drastically shortens the lifespan of your roof!
We provide this page to not only show you how we at Woodlands Power Washing can improve the looks and beauty of your property, but to also inform you of the correct, and not so correct way to clean your property's roof. Of course, we at Woodlands Power Washing always recommend letting a professional perform this work, but we want to give you the information for you to make the decision on who to hire. Many different roof cleaning companies clean roofs many different ways. Woodlands Power Washing wants you to understand the correct way your roof should be cleaned to not only improve the life of your roof, but also to keep it beautiful for years without having annual cleanings. We at Woodlands Power Washing have spent years of training to become The Woodlands 's #1 roof cleaning company, and we want to pass this information on to our clients.
The Roof Cleaning Industry As We Know It
Many people do not even realize you can clean a roof. Most people have the thought that a roof has to be replaced once it becomes covered in algae, mold, and moss. After many years of the non-professionals cleaning roofs the improper ways that only damage the roofs, we at Woodlands Power Washing have mastered the proper techniques to get it clean, keep it clean, and expand the life of your roof. With these new techniques, the roof cleaning industry is heading into a new era, and is becoming more popular day by day.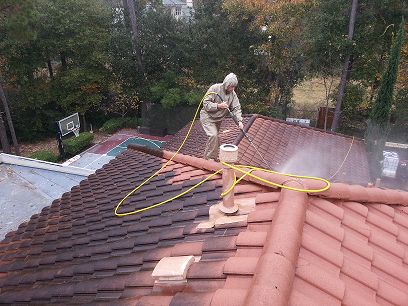 The sad fact is that even most of the so called professional roof cleaning companies in The Woodlands , Texas only know as much as a typical property owner. This is the reason a property owner has to be very particular in whom they hire to clean their property's roof. In Texas, anyone can call themselves a "roof-cleaner". There is no mandate to have a license to clean a roof. This allows for anyone with a pressure washer to state that they can clean roofs. We at Woodlands Power Washing have put a lot of time in training our roof cleaning technicians, and always have a roof cleaning professional on site when a cleaning is in process. We want you to feel no fear at all knowing that Woodlands Power Washing is in charge of your cleaning needs.
Why you should clean your roof and why they get dirty!
The why part of the above question is pretty simple. Most people want their property's roof cleaned for one simple reason. Beauty. Everyone wants a beautiful property. A property that will impress the family and friends when they arrive at your hard earned dwelling. But there are more reasons than just to beautify your property to have your roof cleaned. Having a clean roof also increases the efficiency of your property. Lowering your air conditioning bill is always a high priority in the The Woodlands area. Having your roof shingles full of mold, mildew, and algae will absorb heat during the sunny days. Shingles are designed to reflect heat from the sun, not absorb it.
Why do roofs get so dirty? Let's face it; the southern states are a hot nasty cesspool of fungus growing cities. The heat, humidity, and wet condition of The Woodlands and other southern cities allow for the perfect conditions for mold, mildew, lichen, algae, and other fungi to grow on roofs, concrete, and just about everything outdoors if not protected and treated. Most residential roofs are shingle roofs. Shingles these days contain limestone fillers to help add weight. These limestone fillers are food for algae, mold, and moss. When the algae, mold, and moss feed on these limestone fillers, it decreases the lifespan of your shingles. With this information, you can see how keeping your roof clean increases the life of your roof. And of course you wouldn't want this mold, mildew, and moss growing on the inside of your house, so why let it build up and grow on the outside?
Woodlands Power Washing Methods
Woodlands Power Washing takes pride in that our methods and operations of cleaning roofs are supported by ARMA (Asphalt Roofing Manufactures Association), and shingle manufactures like Owens Corning, GAF, and many others. The "Green" chemicals we use are plant and pet friendly and remove the growing fungus from the roots to insure that future fungus growth does not occur for years to come.
After Cleaning Care
After your roof has been cleaned, there are tips and tricks to keep it this way for years to come. Most roofs will need another cleaning to stay on top of the fungus growth in about 3 to 4 years after the initial cleaning. During this 3 to 4 year period, it is recommended to have us come out and spray your roof with a protective coating of spray and forget each year. The spray and forget coating will help kill off any existing fungus growth, and in many cases will extend the need of another cleaning as recommended for another year or two further.
We at Woodlands Power Washing appreciate you visiting our website, and if you feel that we missed anything, please feel free to e-mail us. We are always doing everything in our power to keep on top of our client's needs.
FREE Estimate
Fill out the form below to receive a FREE estimate!